OpenEMR Wiki Home Page
From OpenEMR Project Wiki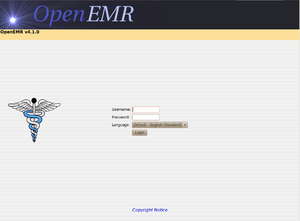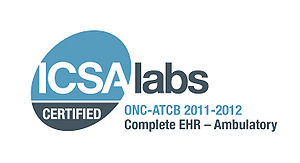 The OpenEMR Documentation Wiki
Overview of OpenEMR
OpenEMR is a Free and Open Source electronic health records and medical practice management application. It is ONC Complete Ambulatory EHR certified and it features fully integrated electronic health records, practice management, scheduling, electronic billing, internationalization, free support, a vibrant community, and a whole lot more. It can run on Windows, Linux, Mac OS X, and many other platforms.
Complete Ambulatory EHR Certification
This Complete EHR is 2011/2012 compliant and has been certified by an ONC-ATCB in accordance with the applicable certification criteria adopted by the Secretary of Health and Human Services. This certification does not represent an endorsement by the U.S. Department of Health and Human Services or guarantee the receipt of incentive payments.
Information on how eligible provider should register can be found here:
After being tested in the ICSA Labs ONC-ATCB 2011/2012 EHR Certification Program, OpenEMR 4.1 attained Complete Ambulatory EHR Certification, satisfying the requirements for the following criteria per the ONC Approved Test Procedures v1.1:
Certification for OpenEMR 4.1 was officially achieved on August 19th, 2011.
See this page for details:
Commercial and Professional Support
The OpenEMR project has a large number of vendors and individuals who offer their services supporting, installing, hosting and customizing OpenEMR.
Commercial Help: Professional OpenEMR installation and support
Demos
Official Demos
Development Demos
Downloads
OpenEMR Downloads : This is the main OpenEMR download page.
Patches : Most recent patch for OpenEMR versions 4.1.0, 4.0.0, 3.2.0, and 3.1.0 can be found here.
Contributed Forms : A new place for contributed forms to be shared
Installation and Upgrade Manuals
Configuration Manuals
Configuring Modules
User Manuals
Feature Requests and Active Projects
Developer Manuals
Main
Repository
Modules and Modular Interfaces
Development Guides
Embedded Components
Jquery: a javascript toolkit, that makes writing javascript easier.
PhpGacl: OpenEMR's embedded php-GACL (access controls).
PhpMyAdmin: OpenEMR's embedded phpMyAdmin (database administration tool).
File Formats Used
Release Process
Package Development
Project Tools
Troubleshooting
Virtual Appliances
Documents on the Web
Videos and Presentations on the Web
Dr Sam Bowen and Tony McCormick were speakers at the O'Reilly Open Source Convention in Portland.
Slide Show PDF + notes, Taking OpenEMR, a GPL EMR to ARRA Meaningful Use Certification and beyond Presentation:

It was recorded for video and is available on YouTube:
POSSCON Videos of a speech Dr Sam Bowen and Tony McCormick presented at a South Carolina Open Source Convention.
Organizations Supporting OpenEMR
OEMR wiki: OEMR is a non project 501(c)(3) organization that supports the OpenEMR project.
Open Source Medical Software Wiki: Open Source Medical Software is a not-for-profit company whose charter is to support all forms of FLOSS EHR/EMR and Health care related software projects.
Sourceforge provides the OpenEMR project with free tools, including project management, file release repository, bug tracker, forums, and web space/server for the OpenEMR project web page and wiki.
Other Affiliated Projects
Wiki Instructions
Consult the User's Guide for information on using the wiki software.