Professional Support
From OpenEMR Project Wiki
Overview
This page is a listing of professional vendors and developers that support OpenEMR. All of the entries below are from vendors/developers that are required to financially contribute to the OpenEMR project and to fulfill a set of strict criteria. Tier 1 professional support contribute $100 or more monthly to the OpenEMR project. Tier 2 professional support contribute $50 monthly to the OpenEMR project. Tier 3 professional support contribute $20 monthly to the OpenEMR project. In addition to the required financial contributions to the OpenEMR project, the requirements vendors/developers need to fulfill to are listed here (click here). For more information about choosing support options (free vs paid), check out the OpenEMR Support Guide. Note that the country(ies) of support for each vendor can be found on the first line of each entry.
Tier 1 - OpenEMR Professional Support
Affordable Custom EHR
United States
Juggernaut Systems Express (US Based company)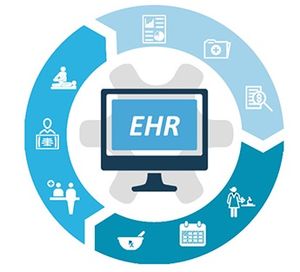 Youtube Channel
https://www.youtube.com/channel/UCzNCxVl2nP8lyhqfU1NtJYw
You will find a ton of tips, tricks, and how-to videos that are up to date
"Passing an audit by Humana Insurance was a breeze with the CMS Note that JSE built for us."
In conjunction with Dr. Phillip J. Haggarty, we have developed a suite of tools and reports for
OpenEMR can assist an anesthesiologist in more profitably running a practice.
Modules:
Advanced Prior Authorization Manager (Mental Health)
Two Way Texting with patients
Simple Patient Alerts for Staff
Documo Fax Service

In conjunction with John Jarad of Mindful Transitions GA,
we have developed a suite of tools that are tailored to' behavioral health clinics.
Features added:
Admin time management for employees
Automatic claim generation
PayTrace.com Integration for Credit Card billing none covered charges
Slogan: Do epic things to build the dream
We also work with the concierge medical community to tailor OpenEMR to the needs of successful practices.
We have a proven track record of delivering with no up-selling.
Address: 501 Independence Parkway, Chesapeake, VA 23320
Phone: 757-328-2736
Email: Email

Services include but are not limited to:
AWS Hosting
Patch Management
Upgrade Code and Web Engine
Database CLI/SQL Backup
On-call "fix this" and "how do we"
Training
Form Builder
Custom Module/Feature Build
Custom Report Build
---
CapMinds Technologies Corp.
United States, India

CapMinds is a leading health-tech company, not just a technology provider; we are passionate about revolutionizing the healthcare industry through our Open Source EMR Solutions.
By combining our technical expertise, deep healthcare knowledge, and commitment to client satisfaction, we deliver innovative, customized, and emotionally impactful solutions that positively impact healthcare organizations, medical professionals, and most importantly, patients.
CapMinds OpenEMR Services:

OpenEMR cloud setup/Hosting/Implementation
Configuration
Customization/Development
Data migration
3rd party integration
Security & Compliance
Training & Technical support
Upgrades/Maintenance
Performance Optimization
CapMinds OpenEMR Cloud Based solutions:

Behavioral health speciality
Advanced Electronic Health Records
Advanced Tele-Health
Advanced Patient Portal
ConnectedHealth with around 50 devices integrated
Chronic Care Management
Remote Therapy Management
Remote Patient Monitoring
Advanced Practice Management
Revenue Cycle Management
Medical Billing Services
Health Information Exchange - HIE on FHIR Server
Our Health IT Speciality

Health IT Applications ( OpenEMR, EHR, Practice Management, Tele-Health, Remote Patient Monitoring, Remote Therapy Monitoring, Chronic Care Management and so on.)
Health Information Exchange & Interoperability (HL7 V2, V3, X12, CDA, HAPI FHIR, FHIR, SMART, MirthConnect)
Robotic Process Automation(RPA)(RoboCorp) and Revenue Cycle Management(RCM)
Advanced Data-analytics, AI, ML, NLP
Cloud and Cybersecurity (Salesforce Health Cloud)
Connected Health
Upgrades/Maintenance
Performance Optimization
Web : www.capminds.com
Email : pandi.param@capminds.com
Address :

USA

CapMinds Technologies Corp,
42240, Mason Ridge CT,
Brambleton, VA 20148,
Phone: +1 571.250.5626.

India

CapMinds Technologies,
7/3, 2nd Floor, Madley Road,
T.Nagar, Chennai, TamilNadu, – 600 017
---
Care Management Solutions, Inc.
United States

Care Management Solutions, Inc.
25 E Center St
Rutland, VT 05701
Phone: 800-371-8685
stephen.waite@cmsvt.com
CMS has provided OpenEMR hosting, support and customization since 2010. It has successfully setup new practices and coverted existing practices to OpenEMR. This includes demographics import as well as charts.
CMS specializes in support for AWS cloud instances as well. We are able to upgrade, patch and customize your own OpenEMR that you launched into the cloud.
CMS has a live interface with the Vermont Health Info Exchange developed in partnership with Sunset Systems. The code has been contributed back to the community and is incorporated in the main codebase. It allows for the creation of a results only interface that can be combined with Mirth Connect to support HL7 messaging.
CMS was founded as a medical billing and practice management company and it has extensive experience with medical billing using OpenEMR. CMS has helped maintain the community version support for 5010 X12, ICD10 and it's integration throughout the codebase for the past several years.
Stephen serves as Board Chair and CFO of the OpenEMR Foundation and believes in free software as a social movement.
Contributed Features
1. X12 5010 enhancements to the 837 and 835 HIPAA standard transaction sets.
2. ICD10 maintenance.
List of commits
---
HEALTHTECH, Inc
United States, United Kingdom

Phone: 1-954-237-3700

Email: healthtechintl@gmail.com
Website: https://healthtechintl.com
HealthTech - Simplifying The Way HealthCare Providers & Patients Connect!
Our solutions are designed to meet the growing demand of technology for Health Clinics, Urgent Care and Private Practice. With the proper use of technology, we give Providers more efficiency at an affordable cost.
If you are not sure how to effectively make the Paper to EMR transition and get the most out of OpenEMR, or need assistance with planning and executing an effective OpenEMR infrastructure, our Consultants can work with your organization to help guide you through.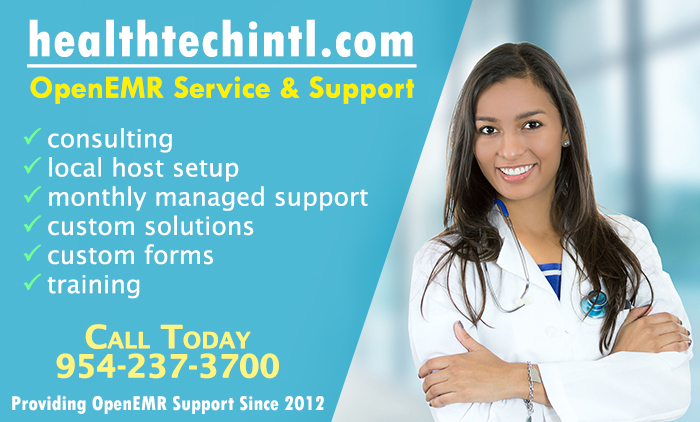 Our Solutions Include:
   - OpenEMR Installation and Configuration
   - Automated Billing through Artificial Intelligence
   - Automation for your Everyday Tasks
   - Monthly Managed Support
   - Hosting Deployment to the Cloud
   - OpenEMR Managed Hosting
   - Data Storage Services
   - Local Host Server Deployment for Linux or Windows Servers
   - Hourly or Monthly Support
   - OpenEMR Migrations
   - E-Prescribing (controlled and non-controlled)
   - Online Appointment Scheduling
   - Custom Patient Registration Forms
   - OpenEMR Upgrades
   - Cloud Back-up & Storage
   - Disaster Recovery Solutions
   - Front-End User Training
   - Worldwide Service Provider
   - 24/7 Support Available
   - Custom Forms
   - Custom Software Development

---
Z&H Consultancy Services (Pvt) Ltd.
United States, India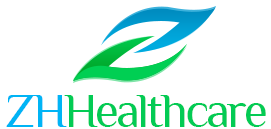 ZH Healthcare is one of the leading developers of the most popular open source EMR solution, OpenEMR, that is used in over 300,000 locations in 180 countries in 36 languages serving a potential 600 million patients.
HITaaS is the confluence of three major technology streams that are critical to the building and deploying of cloud based electronic health applications, namely –
Cloud technologies
Software development methodologies
Healthcare ecosystem
In other words, a one-stop-shop for developers to rapidly take their eHealth applications from vision to reality at one fifth of the time and money of other approaches.
MyDoc'sPortal, the Patient Portal: State of the art patient engagement with Video consultation for OpenEMR and BlueEHR. It features a robust telemedicine platform with video consulting capabilities. It is the portal associated with OpenEMR MU 2, in operation since 2010.
USA

ZH Healthcare Inc.
7910 Woodmont Ave, Suite 630,
Bethesda, MD 20814
Phone: 855.936.3367
FAX: 703.345.0512
India

Z&H Consultancy Services (Pvt) Ltd.
33/2165 Zaiham Towers,
Vennala PO, Cochin, 682028
Phone: +91 938 745 2709
FAX:+91 484 406 7873
---
Tier 2 - OpenEMR Professional Support
empty
Tier 3 - OpenEMR Professional Support
AcuMedSoft
United States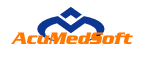 Free demo web based site for your convenience.
We offer Web based (We host) and Server/client set up
Training for Users Onsite or via Web
Practice Management Setup. E-prescribing, Billing etc..
Customization (Configuration, forms and letters)
Install, Configure, Maintain and Support
Software Development
HIPAA Class Hosting
IT Services
Set up your OpenEMR in less than 24 hrs
AcuMedSoft,LLC
Raleigh, NC
919-675-1175
econnect@acumedsoft.com
---
ClaimRev
United States

Are you tired of dealing with the long wait times on customer service calls? ClaimRev is here to help! We offer a modern designed, cloud-based clearinghouse that is easy to use and customizable for your practice. Our expert team will work with you to streamline the claims process, reduce denied claims and speed up reimbursements. With our additional services such as eligibility checks and coverage discovery, you can ensure that you get the reimbursements you are entitled. Plus, our top-notch customer service team is ready to assist you with any questions or issues, saving you time and hassle. Use our integrated module for OpenEMR that manages real time eligibility and claim submission. You can even view the submitted claims from within the module!
Contact
Brad Sharp
Website
Email
Phone
---
INFEG Software Solutions
India

Website - http://www.infeg.com
Email - services@infeg.com / infeg.services@gmail.com
Phone - +91 8825618027
We are a software development, software services company with more focus on Healthcare Domain services.We are Technology Helpers / Partners of your business or solution who work as your extended team by showing high end professional support and services which makes us stand out among others and we believe in that.
Following are Some of the Services We do:
- OpenEMR Workflow Customization
- Speciality Specific Customization
- Integration of OpenEMR to other softwares via Mirth/API
- Device Integrations with OpenEMR
- Mobile App Developments for OpenEMR Doctors / Patients
- New Module Developments into OpenEMR based on requirements
- Automation of workflows
- Integrating OpenEMR to wordpress sites via woocommerce plugin development
- Form Builder Implementations
- PDF Editor Module implementation
- Telehealth module integration with OpenEMR
- Billing Automation Services
---
MI-Squared
United States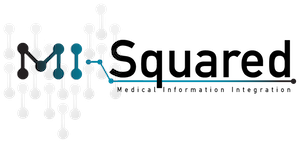 Medical Information Integration, LLC

aka - MI-Squared
1070 Tunnel Rd. Bldg. 1Ste. 10 PMB 321

Asheville, NC 28805

(866) 735-0897

info@mi-squared.com

MI-Squared is dedicated to providing exceptional software development services and support within the heath care community. We are firm believers that open source software is the best way to improve the quality of software for the community as a whole, and we have been contributing to OpenEMR since 2006. We have contributed key components to the OpenEMR code-base including CQM and AMC calculator, CDR rule-builder, ESign, NewCrop Electronic Prescribing interface, Google Sign-In, Billing Processor, Documentation and more. We have also developed several useful custom modular add-ons for OpenEMR including Tags/Filters, Referral Dashboard, Transcription system with inline document editing, Patient Privacy, SFTP, Data Imports and more.


Our Services
We are one of the senior vendors of Comlink Telehealth for OpenEMR. Plus we literally wrote the book for it: Comlink's (and the OpenEMR wiki's) telehealth user tutorials are our work.
We are OpenEMR's primary vendor for the NewCrop Electronic-prescribing solution, including prescription of controlled substances. Learn about ERX
We offer OpenEMR custom software development by highly qualified software engineers to make your EMR simple-to-use, and meet your specific needs efficiently and cost-effectively.
We provide reliable, HIPAA Compliant, hosting and backup services for OpenEMR and our other applications. We do not charge for hosting, but we set it up for you in Google Cloud for a low cost.
We offer the best training package, administered by a staff of experts in the field. In addition to our training package, we offer OpenEMR user support, IT support, database conversions, practice management consulting and custom software development and integration.
Business-to-Business support for Billing and other Health Care service providers is a specialty, we'll help your business make the most of OpenEMR for your customers.
We also have Automated Lab Orders and results in with Quest and LabCorp, E-prescribing, Applications and add-on packages that interface with OpenEMR, and more
Our Team
Ken Chapple - president and lead developer (View Resume on LinkedIn)
Harley Tuck - support specialist
Contact info@mi-squared.com for more information.
---
Providence Healthtech
United States

Providence Healthtech is a healthcare information technology company offering electronic medical records software as service to a variety of healthcare providers. The rapid adoption of healthcare IT over the last 15 years has led to complex, highly regulated, disparate clinical medical record management. Providence Healthtech simplifies the installation, management, and long-term sustainability of an EMR solution by managing the various technical components required. Software as a Service models allow providers and practice managers to focus on their fields of expertise while still leveraging high quality technical solutions.
Website
https://providencehealthtech.com
Global Health Initiative
Providence Healthtech is committed to health equity around the world. The Providence Healthtech Global Health Initiative offers low-to-no cost EMR and Practice Management solutions to healthcare clinics in low and middle income countries. This includes a customized implementation to meet the specific needs of the local area, access to training material, and use of our cloud infrastructure.
Providence Healthtech provides access to OpenEMR, the world's leading open-source electronic medical records software. If you are a non-profit organization operating health services in low and middle income countries or underserved populations.
Email
info@providencehealthtech.com
---