OpenEMR 4.1.1 Virtual Appliance
From OpenEMR Project Wiki
(includes OpenEMR with SSL on Ubuntu Server Edition 8.04):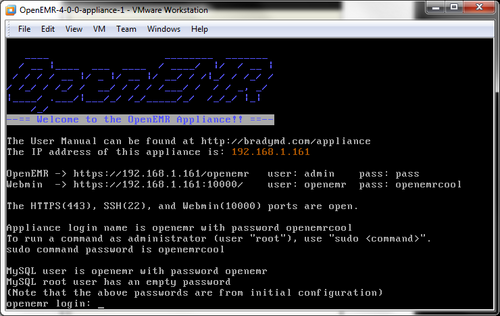 Note this Appliance is outdated and is no longer supported.
This appliance can be run on any Operating System (Linux, Windows, etc.) that supports the VMware Player or VirtualBox. It has many possible applications, such as a fully functional demo, a testing/developing platform, and as the starting point in real world clinic applications.
The installation/configuration instructions of this appliance are included in the User Manual below. The User Manual covers installing with VMware player. Detailed instructions on building the appliance are also included, which will allow simple transition to a native server, if required. Instructions on installing printers, configuring the email server, setting up an automatic backup scheme utilizing encryption, and setting up a static IP address along with other administrative tasks are also included.
For instructions on additional steps required to use VirtualBox, see Virtual Appliance under VirtualBox or the appendix of the Appliance Manual.
The User Manual can be downloaded at (There are also detailed upgrade instructions here for users with previous OpenEMR Virtual Appliance versions): Main Instructions | Upgrade Instructions
Download and install the free VMware Player at: http://www.vmware.com/products/player/
The OpenEMR Appliance can be downloaded via Direct Download (this file is 1.4 GB, and extracts to 3 GB):

Additionally:
here are some community contributed Help and Tips
read these additional notes about the virtual appliance
check out some contributed scripts for the virtual appliance or add your own!

Archive of OpenEMR Appliance Documentation

author:
Brady Miller
brady@sparmy.com