Admin Globals 4.2.0 Calendar
From OpenEMR Project Wiki
<< Previous: Documents --- OpenEMR 4.2.0 Users Guide --- Next: Security >>
OpenEMR Global Settings
Calendar
Settings for the OpenEMR calendar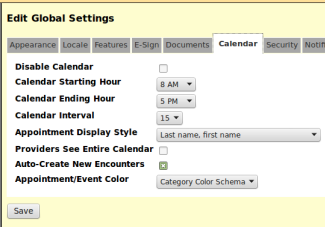 Graphics and a few new descriptions were addded to update the materials for this 4.2.0 UG.
Almost all the text in these pages was provided by Brady Miller.
Disable Calendar
Do not show calendar in OpenEMR
Calendar Starting Hour
Time for first slot in calendar
Calendar Ending Hour
Time for last slot in calendar
Calendar Interval
Length of time for each schedule slot
Appointment Display Style
Providers See Entire Calendar
Auto-Create New Encounters
Appointment/Event Color
Choose whether to display appointments color by appointment category or by the facility where the appointment is.
<< Previous: Documents --- Next: Security >>