EnSoftek
From OpenEMR Project Wiki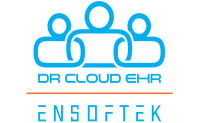 EnSoftek Inc provides Open source and commercial Electronic Medical Records Solutions to Healthcare Providers: Hospitals, University Practices, Large Physician Groups, Medical Billing Companies, Labs, Medical Imaging Services, and Individual & Group Practices. With qualified professionals positioned in two continents EnSoftek is one of the major sponsors and contributors to the OpenEMR code.
OpenEMR Services: EnSoftek provides the following OpenEMR services: Consulting, Custom programming, Implementation, Hosting, Private Labeling, Training and Support. Specialists in OpenEMR customizations.
Hosted OpenEMR: EnSoftek has developed a true-cloud based version of OpenEMR, hosted on Microsoft Azure; EMR-as-a-Service EMRaaS.
EnSoftek, Inc has also developed its own performance enhanced OpenEMR with a brand new user-interface as DrCloudEMR™. It is an end-to-end EMR service and solution deployed on Cloud Platforms, current running on Microsoft Azure Platform. It is the only EMR running on Azure. It has received the complete EHR certification so all providers are eligible for Meaningful Use and Stimulus Funds.
DrCloudEMR™ offer you an end-to-end medical record solution to enable your clinic to provide high quality patient care and also qualify you to receive Meaningful Use reimbursement from the Centers for Medicare and Medicaid Services. We offer Nuance Speech Anywhere Dragon Dictation support, integrated faxing using InterFax.net, custom iPad version of DrCloudEMR leveraging the devices advanced capabilities.
EnSoftek, Inc is one of the major contributors to the OpenEMR project both financially and in donated software development. As part of their efforts Ensoftek has certified the DrCloudEMR™ solution through DrFirst and contracted with OEMR to contribute a percentage per prescriber per month back to the project to further additional OpenEMR development.
EnSoftek, Inc
info@ensoftek.com
Contributed Features
Meaningful Use Stage 2 Features - Lots of features to support Meaningful Use Stage 2 Certification
Clinical Decision Rules - Clinical Decision Support Rules and Reminders, required for Meaningful Use Certification
CQM PQRI Reporting - CQM Reports and PQRI Reporting, required for Meaningful Use Certification
User Interface - converted Pop-ups to Fancy boxes where appropriate
Immunization Capture and Reporting - Import CVX codes, record immunization and report, required for Meaningful Use Certification
Bug fixes
Complete list of commits