Visolve
From OpenEMR Project Wiki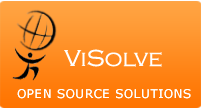 ViSolve Inc., is a premium OpenEMR Services and Solutions Provider headquartered in San Jose, California that works in your preferred time-zone.
Custom Programming is one of our key differentiators. No one size fits all. We do work with a leading Academic Medical Center in US for specialty department EHR Custom programming and enabling Interoperability between disparate systems in the Academic Medical Center's and affiliated Teaching Hospitals. Given our team's in-depth experience in every area of OpenEMR and we can design, develop and implement custom features to OpenEMR including enhancing the GUI. Please Click Here to find our sample customization work.
OpenEMR Services include:
Development
Custom Programming
Integration (HL7/DICOM)
QA
Training
Hosting in HIPAA Compliant Cloud
7*24 Support
Meaningful Use Consulting - ONC-ATCB Certification Assistance

Given ViSolve's 15+ years of strategic working relationship with enterprise customers such as HP, VMware etc, we also have an expert team that specializes in migrating healthcare customer environments to Cloud focusing on High Availability, Disaster Recovery, Performance, Cluster, Scalability and Security. We have successfully migrated over 160 healthcare customer environments to cloud with zero downtime.
Value added Modules: ViSolve's sophisticated Lab Interoperability Module integrated with OpenEMR and also top labs such as Labcorp, Quest etc that enables bi-directional exchange of orders and results without having to spend for point to point interfaces. We also have a Billing and Scheduling Module that makes everything from scheduling to claims to reporting easier and more intuitive. Helps you save time and cut cost.
As a prominent member of the OpenEMR Board, ViSolve has contributed significantly in donated software development including developing security modules like HIPAA De-identification, Audit Logging, Client Certifications, Recording disclosures, Emergency access, Consent Management, Performance improvement and defect fixing. ViSolve played a vital role in getting the OpenEMR ONC-ATCB certified from the ICSA Labs.
We are flexible in our engagement models providing competitive SLAs and response times, reducing internal development cost, complexity and time to market for customers. We have served leading Medical universities, general/specialty practices, Labs and Health IT Vendors. We provide a compelling value proposition and that's why we have customers coming back to us and working with us for several years.
For more information on how we can help you with our OpenEMR and Healthcare IT services, please feel free to contact us.
ViSolve, Inc.
(Corporate Headquarters)
4010, Moorpark Avenue #205
San Jose, California – 95117.
Phone: +1 (408) 850-2243